Party on the Town Following the
Twilight Run & Walk
More than 340 participants took part in our 7th annual Twilight Run & walk on April 26. Thanks to all who ran, walked and cheered. Thanks to our sponsors and the businesses in Havertown that participated in our Party on the Town.
Chatham Park won the elementary one-mile challenge team trophy. Karen Buchanan and Chip Campbell were the first girl and boy to cross the finish line in the One Mile Challenge.
Alex Derbyshire and Tara Klick were the first male and female in the 5K race.
And the lucky winner of our iPad Mini drawing? Chatham Park student Paulina Timme.
Party on the Town Participants
The Lamplighter
The Oakmont Pub
Burke's Inn
J. D. McGillicuddy's
Cenzo's
Jano's
Havertown Pizza
Koffmeyer's
Pop's
Zac's
Pretzel Boys
P&S Ravioli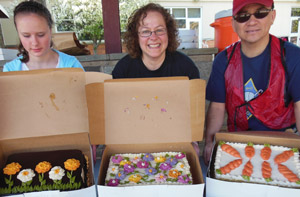 The Haverford Township School District Education Foundation is the result of the vision of local community leaders who wished to enhance the school district's curriculum and activities with privately-funded enrichment programs for students in the district. Each year, we present our Twilight 5K Run, Walk & 1-mile Kid Challenge as a community event and fundraiser.
The HTSD Education Foundation also encourages families to honor teachers, students and others who value public education through our Tribute Donations.