6th Annual Twilight 5K Run & Walk
A Sunny Success
Chatham Park Elementary's team won the 1-mile elementary challenge race that was part of the HTSD Education Foundation's 6th Annual Twilight Run & Walk on Saturday, April 27, 2013.
More than 400 runners/walkers completed the course and helped to raise more than $30,000 for educational enrichment in the Haverford Township School District. This year's funds are earmarked for a $30,000 School Empowerment Grant to Haverford Middle School.
Thanks to a supportive community we have distributed or earmarked more than $230,000 for our on-going mini-grant program, our large-scale School Empowerment Grants, the high school TV studio and in matching funds for WHHS. The Ed Foundation also sponsors an annual Summer Academy which offers fun summer classes for students.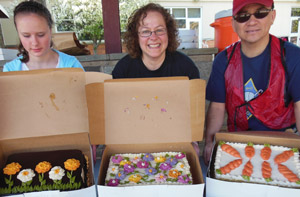 Our many race sponsors donated money as well as goodies for all participants. Volunteers hold the fantastic cakes donated by Whole Foods. In addition, all participants were treated to food and drinks from Giant Markets, Pepsi Bottling Company and Nolan Painting provided its famous popcorn. Visit our sponsors page for a complete list of sponsors for the 2013 Twilight Run & Walk.
Thanks, too, go to the businesses that provided our Party on the Town. Free or discounted food and beverages to all participants after the race were offered by: Pop's Water Ice, Koffmeyer's Old Fashioned Cookies & Ice Cream, Cenzo's Pizzeria, JD McGillicuddy's, Oakmont National Pub, Jack Quinn's Lamplighter Tavern and P&S Ravioli.
The Haverford Township School District Education Foundation is the result of the vision of local community leaders who wished to enhance the school district's curriculum and activities with privately-funded enrichment programs for students in the district. Each year, we present our Twilight 5K Run, Walk & 1-mile Kid Challenge as a community event and fundraiser.
The HTSD Education Foundation also encourages families to honor teachers, students and others who value public education through our Tribute Donations.